In mood for steaming hot dosai? Craving for some super chocolaty shakes? Got Chinese on your mind? Or are you so busy, you wanna grab something like a wrap quickly? OMR Food Street got you covered! 
First impression: It's like a shopping mall for food, with so many stalls buzzing with hungry, happy customers. Just stepping into the place got me all hungry and I just could not decide where to go first! The spacious food street gets your spirits high with the aroma of all kinds of food hitting you all at once! 
Spot 1 – What the Fork!:
This casual dining restaurant, specializing in American and continental cuisine was my first spot in OMR Food Street. The interiors with all the paintings of yummy food and the relatable food quotes on the tables made this restaurant's ambiance interesting! 
What I ate – Jamaican Jerk Chicken – as per the chef's recommendation. I am so glad I went with his recommendation! I savored every bit of this perfectly cooked dish. The jerk sauce tasted so perfect and the chicken's soft texture was just right. It was served with crispy, hot French fries and a small portion of rice, which complimented the chicken so well. I wanted to try more from their menu but also wanted to save by space in my tummy for all the yummy dishes that were waiting for me 
https://www.instagram.com/p/Biq-7pVAyH0/?taken-by=the_hungry_chennaite
Spot 2 – Fryos
A small kiosk with a crisp menu! I was in a mood to experiment and so went on to customize my fries. I chose chicken garlic fingers as my base, sauced it up with gouda cheese, honey mustard, sweet onion and chipotle and my choice of toppings were jalapenos and olives. I waited for my order like a student waiting for the exam result to see how well the combination I chose would taste 😀 And when it reached me I was blown by the taste! 
https://www.instagram.com/p/Bie5QJ2Apzo/?taken-by=the_hungry_chennaite
To go with my fries, I ordered an oreo shake – easy choice right? You see it on the menu, you order it! No questions 😛 
Honestly, I was not expecting this to taste as good as the shakes from the N number of new shakes chains that kept opening up in the city in the recent times, because for me Fryoz meant a fries place, nothing more. But I was so wrong! I realized they had used so many oreos so generously, that it made this shake taste so yummy! 
Spot 3 – Frozen Bottle
I have been meaning to check this shakes joint for a while now, because of all the social media hype not just in Chennai but also from other cities. With cool ambiance and smiling faces ready to help you choose, the experience I had at this place definitely stands out for me. I first ordered Ferrero Rocher shake and Nutty & Fruitti cold stone ice cream jar. Ferrero rocher shake is a must try if you are a fan of this chocolate! And if you love the taste of berries and peaches you should miss the nutty fruitti ice cream. 
https://www.instagram.com/p/BihZjxigzEI/?taken-by=the_hungry_chennaite
Lastly, I ordered Garden Strawberry fruit shake, just to try how fruit based shakes taste (like I told you, I was in a mood to experiment). It felt like biting into fresh strawberry and delightful vanilla ice cream – heavenly! 
Stop 4 – Frozen Lips
A kiosk with a number of unique flavored ice creams blended using liquid nitrogen (so nice to watch!). Again, I went for something I would never usually choose – chili guava ice cream. Spicy ice cream – that is what it was! A rich guava flavor with powdered chili sprinkled on it! It was totally new to me and I loved it 
Overall, I felt like a kid in Disney land (I guess this is how they feel!). One visit will just not be enough here and one will keep visiting for the variety this place has to offer in terms of the cuisines.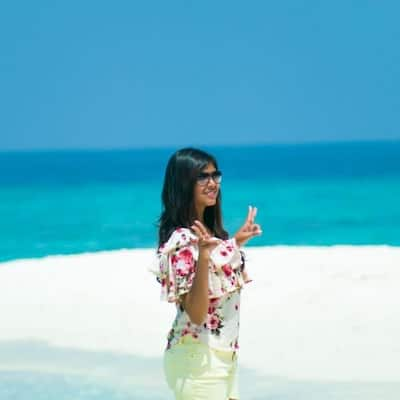 Yazhini K Ayyanathan@The Hungry ChennaiteChennai